Slimming & Fat Reduction
Lipofirm Plus Ultrasound Fat Removal
Lipofirm Plus is Europe's No 1 inch loss, body contouring and skin tightening system. Lipofirm Plus is the ultimate medically certificated system combining Ultrasound Cavitation and Radiofrequency for fat cell destruction, cellulite treatment and skin tightening – the creditable alternative to lipo suction. It is one of the few systems that is medically certificated with clinical studies.
What is Ultrasonic Cavitation and how does it work?
The ultrasonic cavitation, also known as aesthetic cavitation, is a relatively new technique and is a very smart way to reduce fat. The ultrasonic cavitation reduces fat cells through a hand piece that is placed on the skin precisely on the area that is to be treated. The machine works with ultrasounds that form bubbles in the tissues where the fat cells are located. The bubbles implode due to the change in pressure. The implosion damages the fat cell thus reducing localized fat. The triglycerides (released fat) break up into diglycerides (liquid), this is then naturally eliminated with urine.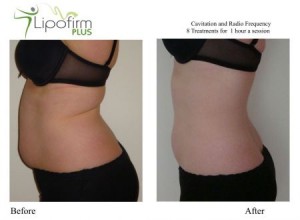 Caci Bum Lift 30 mins
The Electro Cellulite Massager will give you instant lifting and contouring on the buttocks, as well as toning the thighs. ECM will improve the appearance of cellulite and breaking down fatty deposits. It will stimulate circulation and lymphatic drainage, which will help to flush toxins away giving the skin a smoother, tighter and brighter dimple free complexion.
Great as a pre holiday/bikini blitz.
Price: £20 – Course of 10 £175